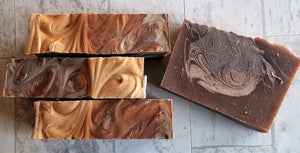 This bar and scent are a Southern Lotus Naturals favorite!!  
Rich Amber and Parisian Lavender are blended with Black Myrrh, Dulcet Vanilla Tonka Bean, with a splash of Egyptian Musk and raw Clary Sage essential oil. 
This sweet and earthy blend pairs perfectly with SLN's handcrafted soap that is loaded with soothing colloidal oatmeal, natural humectant honey and rich emollients.