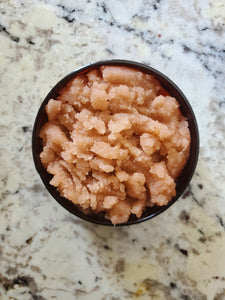 Add your favorite essential oil or fragrance blend for a personalized experience while you gently massage away dull and dead skin cells to reveal, smooth, and nourish the skin beneath.
Orders with Customized Scrubs will add and additional 3-5 days to BEFORE being processed and shipped.
Each jar contains 10ozs of a luscious blend of Himalayan Sea Salt, Organic Cane Sugar, and conditioning and nourishing oils including Calendula, Jojoba Oil, Extra Virgin Olive Oil, and Hemp Oil. 
Directions:  Use warm water to wet your skin, then apply and massage your skin gently with the scrub.  Rinse the scrub off your skin and pat dry your skin, leaving the surface of skin damp.  Then seal and moisturize your skin with SLN's Essential Shea Cream or Head to Toe Oil. 
For external use, do not apply to the face or broken skin.
*** Scrubs do not contain preservatives, do not expose contents to direct water.