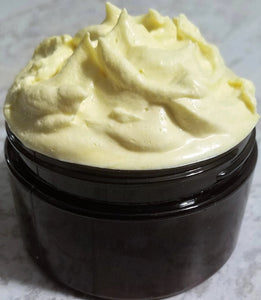 Southern Lotus Naturals' UNSCENTED Whipped Shea Butter Cream.
Essential Shea Cream address the needs of dry to very dry skin.  This emollient blend contains a high concentration of Shea Butter (70%) in combination with Calendula, Jojoba, Hemp Oil, and Vitamin E to help condition and nourish skin.  It can be applied directly to the body or to specific areas, such as feet, knees, elbows, hands and nails, to help protect and soften skin.

Directions:  Massage the Whipped Shea Cream into your skin as the texture melts into an luxurious oil that penetrates your skin to soothe with intense conditioning and nourishment
**Contents may melt and lose volume in warm environments.  If your Essential Shea Cream melts while shipping or if exposed to extremely warm temperatures, the contents can be re-whipped, once cooled, to once again achieve the whipped texture.