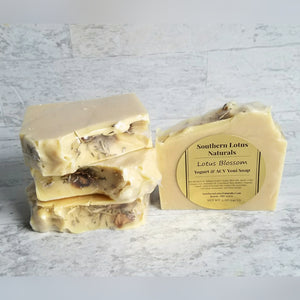 Another Southern Lotus Naturals FAVORITE!!
Lotus Blossom is an Apple Cider Vinegar (ACV) and Yogurt soap that is the defintion of Simple Luxury Naturally.  

Both ACV and Yogurt have long been used for Southern natural remedies and they combine to create Lotus Blossom along with herb-infused Olive Oil and Shea Butter which produce a rich lather that gently cleanses and softens your skin leaving it supple and moisturized. 
Seal in that hydration with Essential Shea Cream, Hydrating Butter Mousse or SLN Gold Oil for a combination that you and your skin will love!!