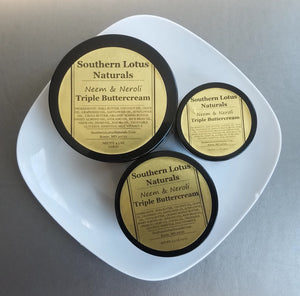 Your skin will LOVE our Triple Buttercream a powerfully soothing combination of Cocoa, Mango, and Shea Butters.
Cocoa butter - Rich in antioxidants, which helps repair damaged skin, aging, hyperpigmentation, and dull skin.
Mango Butter - Intense skin moisturizer and protectant rich in vitamins A, C and E to combat free radicals from UV rays and air pollution and soothes sunburned skin. 
Shea Butter - Rich in vitamin A and deeply moisturizing. Nourishes skin and soothes skin. Improves skin blemishes, eczema, wrinkles and dermatitis, as well as insect bites, sunburn and frostbite. 
Neem Oil -  Restores moisture and heals cracks caused by dryness. Protects against skin damage caused by UV rays.  A natural anti-aging benefits that deeply penetrates skin, enhances elasticity, and smooths wrinkles by stimulating collagen production.  
Neroli Essential Oil - Promotes radiant and beautiful skin.  Moisturizes dry skin and relieves skin conditions like psoriasis, eczema, and dermatitis.  May reduce the appearance of scarring and stretch marks.
Hemp Oil - An effective moisturizer and skin protectant. Hydrates skin and smooths psoriasis, eczema and dry, itchy skin. Increases elasticity of skin of tired and dehydrated skin.